The PrimeKey Tech Days with ESYSCO
29.09.2020 online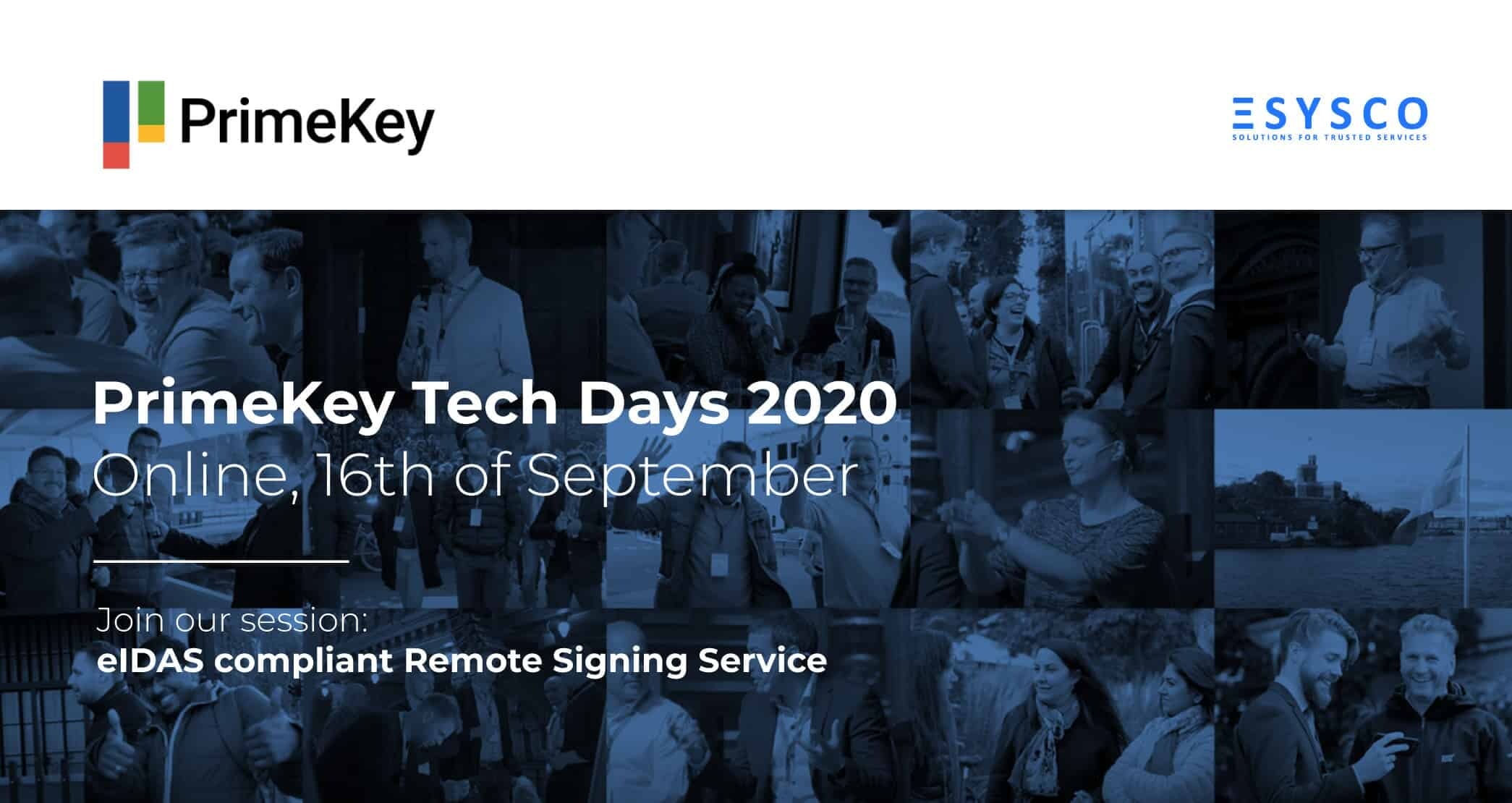 The PimeKey Tech Days will take place on September 16 – this year for the first time online due to coronavirus. The event offers the opportunity to find out about comprehensive developments and innovations in the areas of cryptography, PKI and related IT security topics.
During the event, market leaders and experts in PKI and security technology from around the world join to give presentations and demos that show PKI in practice and in action. The whole thing is broadcast live from a studio in Stockholm.
The agenda includes the following topics:
PKI
eIDAS compliant remote signatures
Agile Crypto
Identity Authority Management
EU Cybersecurity Act
PKI Common Criteria and Audit Compliance
Integration stories
Hardcore PKI
and much more.
eIDAS compliant remote signing service
Roman Cinkas, CEO of 3Key Company and Jack Piekarski from Esysco and eezeeTSP will speak about one of the topics with the greatest future potential in the context of digitization – the eIDAS-compliant electronic signature. The PrimeKey website states: "According to eIDAS, an electronic signature is considered advanced if it has fulfilled several requirements […]: It uniquely identifies and links the signatory; the private key used to create the electronic signature is under the sole control of the signer; if the data is manipulated after the message has been signed, the signature must indicate that this happened, which means that the signature is invalid in case the associated data has changed. "
With ESYSCO for a qualified signature
ESYSCO is fully committed to the digital transformation of society – with its core competencies, qualified eIDAS-compliant signing processes (e-signatures, e-seals, time stamps), cryptography and PSD2.
As a system integrator and technology provider for encryption-based products, services and solutions, the company supports its customers in mastering the challenges of digitization and realizing their economic potential.
Together with its European partners, ESYSCO makes qualified digital onboarding and signing, identity and access management in administration and online business simple, fast, user-friendly, trustworthy, efficient and scalable.
The partners include well-known hardware and software manufacturers as well as qualified trust providers who are listed in the EU Trust Service List and are therefore allowed to use the EU trust seal to identify themselves as qualified.
Only qualified signing and sealing processes according to the eIDAS regulation – in contrast to basic and advanced ones – create the digital equivalent of a handwritten signature. This highest security requirement must be met for liability-related documents that require the written form in, for example, e-government, healthcare, banking and online trading with new cars in the sense of legally binding and evidential value.
Founder and managing director Jack Piekarski is looking forward to participating in the event. "The PrimeKey Tech Days will be a great exchange opportunity for providers and customers and will take QES one step further."
Curious? Contact us! Our team is looking forward to hearing from you.